Following last years combined World Congress of Biomechanics, we are proud to announce the 2019 Summer Biomechanics, Bioengineering and Biotransport Conference (SB3C2019), to be held outside of Pittsburgh, Pennsylvania in the Allegheny Mountains at the Seven Springs Mountain Resort, from June 25 – 28, 2019.
SB3C2019 includes all the features prior attendees are familiar with: beautiful resort location, family-friendly venue, outstanding scientific program, the popular student design and paper competitions, and networking opportunities for academic and industry researchers at all levels.
The theme of this year's conference is "Creating Multiscale Connections: The Keystone of Integrative Biomechanics, Bioengineering and Biotransport." The meeting will include a broad range of plenary lectures, symposia, and workshops related to the overall theme. Our scientific program will include topics in many applications of technology and human health, including: biotransport, device design, rehabilitation, bioengineering education, fluid mechanics, tissue engineering, solid mechanics and more. We anticipate an excellent and diverse program of events, lectures and opportunities to disseminate knowledge and connect with fellow peers, continuing the legacy of this summer conference.
The Venue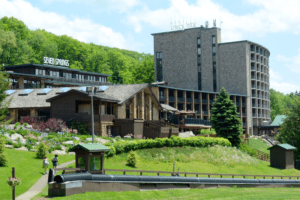 SB3C2019 will be held at the Seven Springs Mountain Resort in the Allegheny mountains of southwest Pennsylvania.
Nestled between the Laurel Hill & Ridge State Parks, and the Roaring Run Natural Area, this ~5,000 acre resort features hiking, biking, golfing, zip-lining, sporting clays, fishing, kids camps, yoga and more. The resort also houses a spa, shopping, 5 restaurants and several lounges.
For conference half-days, the resort is approximately an hour drive from Pittsburgh, Pennsylvania, a city known for its 446 bridges and extensive steel industry; Frank Lloyd Wright's Fallingwater home; and numerous other hiking, caving and outdoors exploration opportunities.
| | |
| --- | --- |
| Abstract Submission Deadline (general, MS & PhD competitions) | January 22, 2019 |
| Undergraduate Design Competition (Rehabilitation and Assistive Devices) Opens | January 28, 2019 |
| BS Comp Abstract Submission Deadline | February 17, 2019 |
| Undergrad Design Comp Abstract Submission Deadline | March 8, 2019 |
| Abstract Notification | March 15, 2019 |
| Registration Opens | Now Open! |
| SB3C2019 Meeting | June 25 – 28, 2019 |
Conduct & Attire
Conduct: SB3C2019 is a professional conference of scientifically inclined adult individuals, and is hosted within the United States and thus under the umbrella of it's laws and expectations regarding civil rights. Moreover, SB3C is committed to being an inclusive and welcoming environment regardless of sex, race, ethnicity, age, gender identity, sexual orientation, nationality or physical ability. As such, all attendees are expected to behave with civility and respect to one another, and to recognize their personal responsibility in exercising good judgement regarding behavior during their attendance at this conference.
Attire: As this is a professional event, we recommend that presenting attendees – particularly students seeking networking and employment opportunities, dress formally for their presentations, networking events and the banquet. However the spirit of this conference to promote a friendly, relaxed and networking promoting environment in a resort venue, please feel free to let this attitude reflect in your attire. Our BEDRock concert, many social events and half days are resort casual experiences.